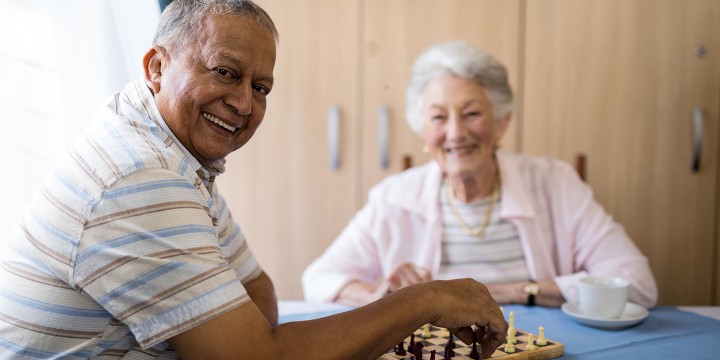 81 Top Games for Seniors and the Elderly: Fun for All Abilities
By Luke Redd | Published May 15, 2018 | Last updated June 18, 2020
Get ready to play! It's time to learn about the best games for seniors so that you can reap the benefits of having fun. After all, joy, amusement, and mental stimulation are necessary for every senior's overall well-being. And we all have days when we just want to pass a little time by doing something engaging.
Games provide convenient ways to have fun, either alone or as part of a group. They eradicate boredom, relieve stress, and make parties and other social engagements easier, more enjoyable, and less intimidating. They also help exercise our brains. For some people, playing certain types of games might be beneficial for things like mood, memory, concentration, reasoning, and imagination. Games might be especially helpful for your brain if they require you to learn something new.
Plus, countless games can be modified for seniors or elderly people who have physical or cognitive limitations. For example, it's easy to find or create games that have large type, which is good for older people who have vision problems. And if time or attention spans are a concern, many games can be played and completed in less than 30 minutes.
The variety of senior-friendly games that are now available is astonishing. So to help you narrow down the possibilities, we've provided some of the best examples within seven main categories:
Puzzle, Tile, and Board Games
Tabletop games are fantastic for social gatherings. That's why a lot of seniors turn to this form of entertainment, especially when they want to encourage friends or family members to visit. Plus, a study in BMJ Open suggests that playing board games might help slow cognitive decline or reduce depression in elderly people. And since board games are generally played sitting down, they are good for seniors who have limited mobility.
The best board games for seniors are fun, absorbing, and challenging (without being too complicated). They are also great for multi-generational play. Here are some popular examples:
1. Qwirkle—Mix and match tiles with different shapes and colors, scoring points by completing or adding to lines of the same shapes or colors.
2. Dixit—Out-bluff your opponents while using your imagination to match stories to beautifully illustrated cards.
3. Ticket to Ride—Claim as many North American railway routes as you can by collecting illustrated train cards and reaching more cities than your opponents within a short amount of time.
4. Rummikub—Be the first one to play all of your numbered tiles by placing them in consecutive sequences or groups of the same numbers or colors.
5. Sorry! Sliders—Slide your pawns into home or take out the pawns of your opponents in this twist on the classic Sorry! game that ditches the cards in favor of a mini-shuffleboard type of experience.
6. Hey, That's My Fish!—Use your penguin to grab more fish than your opponents as their penguins try to block your moves while the ice disappears around you.
7. Ubongo—Race against other players as you try to solve puzzles of interlocking geometric shapes in order to grow your treasure of gems.
8. Jenga—Beware of gravity as you try not to be the one who pulls out the wooden block that makes the whole tower come crashing down.
9. Bugs in the Kitchen—Set the path and lure the little scuttling bug into your trap before anyone else.
10. Tsuro—Lay your own tiled path while avoiding the paths of other players that can send you the wrong way or off the board completely.
11. Chronology—Put your historical knowledge to the test by trying to be the first one to build a 10-card timeline based on the correct order of events.
12. Latice—Play all of your tiles before anyone else by matching them on different sides and strategically using sun squares and wind tiles based on what you think your opponents still have in their possession.
13. Cranium—Be the first one to circle the board by successfully solving puzzles and other challenges that will have you acting, guessing, sculpting, sketching, and humming.
14. Backgammon—Beat your opponent by getting lucky, planning your moves, and being the first one to get each of your 15 checkers off the board.
15. Chess—Use your most creative strategies to protect your king while outwitting your opponent and putting his or her king into checkmate.
16. Mahjong—Be the first player to build a winning combination of tiles based on rummy-like groupings of symbols and characters.
17. Checkers—Capture and remove all 12 of your opponent's game pieces before he or she can do the same to you.
18. Dominos—Play all of your domino tiles before the other players by laying them down end-to-end with matching tiles that have already been played.
Video Games
Did you know that, according to the Entertainment Software Association, 25 percent of men and 22 percent of women between the ages of 55 and 64 have been video game players (aka "gamers") for more than 25 years? It's true. In fact, AARP says that 38 percent of all 50-plus adults play video games. And 43 percent of gamers over the age of 60 play video games every day. So there's clearly a lot to love about this type of entertainment, regardless of your age.
Video games offer a form of visual and auditory engagement that most other kinds of games can't match. Many of them provide truly thrilling experiences as well as opportunities to connect with other players (of all ages). They are downright fun.
But here's something you should definitely know: Some electronic game developers claim that their "brain training" products can improve your brain health and cognitive performance. However, their marketing is often misleading. The science behind brain-training games is controversial at best. Many of the world's top psychologists and neuroscientists say that there is little or no solid evidence to support claims that certain kinds of video games can improve a senior's overall mental faculties.
The truth is that so-called "brain games" may not actually boost your cognitive abilities for everyday life nor prevent or slow down any brain-related diseases. Rather, by playing a game repeatedly, you'll get better at the particular tasks for that game (and possibly other tasks that are very closely related to them). But you won't necessarily get better at doing unrelated tasks in the "real world" outside of the game. If you really want to improve your brain health, you're better off exercising, getting good sleep, and learning new things.
That said, if a video game is completely new to you, then your brain may benefit from the challenge of learning how to play it. And you can't overlook the pure enjoyment factor. After all, having fun should be your top reason for playing any video game.
According to AARP, the most popular types of video games among older adults are card, tile, puzzle, and logic games. But a lot of seniors also enjoy strategy, role-playing, and action-oriented games. So try out several different kinds and see what you enjoy.
Most seniors play video games on their laptops or desktop computers. But you can also play games on a smartphone, digital tablet, handheld game console, or TV game console (such as the Nintendo Switch, Sony PlayStation, or Microsoft Xbox). Games for computers and mobile devices can often be downloaded for free or played online at no cost. Here are some electronic games that are especially worth checking out:
19. Bejeweled—Swap bright gems of different shapes and colors in order to form rows of matching gems, earn points, and move to the next level.
20. Candy Crush Saga—Switch around colorful pieces of candy in order to form three-of-a-kind matches and reach a particular goal within a time limit or a fixed number of moves.
21. Snipperclips Plus—Solve all kinds of creative puzzles in this funny game for the Nintendo Switch by interacting with various objects and cutting paper characters into different shapes.
22. Gummy Drop!—Rebuild monuments around the world (virtually, of course) by solving match-three puzzles that feature vibrant gummies in different colors and shapes.
23. 1-2-Switch—Face your opponent instead of the screen while you play various mini games that require you to be physically active and respond to audio cues and "rumble" feedback from the special controllers of the Nintendo Switch.
24. Puyo Puyo Tetris—Quickly rotate and position falling blobs of color or shaped blocks so that they land in places that will help complete a puzzle in this game for the Nintendo Switch.
25. Plants vs. Zombies 2—Grow various kinds of plants in strategic locations in order to defend your home from a horde of brain-eating zombies.
26. Words With Friends 2—Challenge your friends or family to a…
This article was sourced from Great Senior Living.